For Canada Day have these Award Winning Fireball Cinnamon Whiskey Ribs!  They use Canada's Fireball Cinnamon Whiskey in the sauce!  An unusual and very tasty take on ribs!
[ultimate-recipe-jump text="Take Me to the Recipe!"]
These winning ribs were entered into the Oro Medonte Rib Fest held annually in Oro Medonte, Ontario.  My friend (and partner in wine-tasting crimes!) was trying to come up with an original recipe when her coworker told her about a friend who used Fireball as a marinade for his ribs. She took that piece of information and played around with different ideas. After five different versions of the recipe that she and her husband sampled they picked this version of the cinnamon marinade and basting sauce.
Cinnamon can be add a great depth of flavour to ribs.  Just look at Bar-B-Barn in Montreal.  They have built a whole business on ribs in  a Cinnamon BBQ sauce.  You can see the Copy Cat recipe here.  It is a winner too.
We thoroughly enjoyed these ribs!  You get a nice touch of heat and layers of flavour!
And the great thing is you can make these ribs ahead which is fantastic if you are going to serve them for a summer BBQ party.  You can cool them after removing from the oven and hold them overnight in the fridge.  Just let them come to room temperature and finish them off on the BBQ when you are ready to serve.
So go ahead and celebrate Canada's 150 the birthday with these ribs and  Fantastic Potato Salad made with Yukon Gold potatoes which were developed in Guelph, Ontario. They are a yellow fleshed, waxy potato that lend themselves well to salads.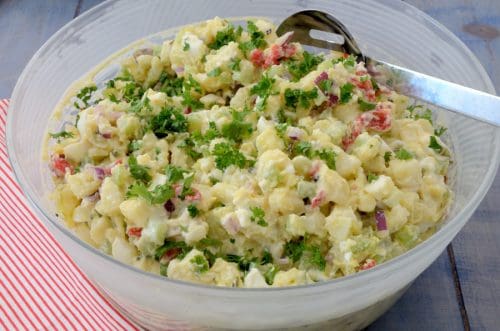 Fireball Cinnamon not your thing?  Check out these Tequila Ribs!
Ingredients
Ribs and Rub
6

lbs

pork back ribs

6

tablespoon

Cajun spices

enough to coat ribs both sides (Traeger is good)

1

cup

Fireball Cinnamon Whiskey
Sauce
2

cups

Kraft Chicken and Rib BBQ sauce

2

cloves

garlic

2

tsps

cinnamon powder

1

tablespoon

olive oil

2

tsps

Cajun spices

(Traeger is good)

¼

cup

Fireball Cinnamon Whiskey
Instructions
Remove the silver skin off the back of the ribs. Sprinkle Cajun spices evenly over both sides of the racks of ribs.

Cut ribs into 2-3 rib sections. Let them sit for couple of hours in the fridge.

Pour 1 cup of Fireball Cinnamon Whiskey over the meaty side of the ribs and allow to marinate at least a few hours but preferably overnight. Stir them up a few times to maximize exposure to the whiskey.

Preheat oven to 275 degrees. Cook ribs for 2 ½ hours.

Mix all the Sauce ingredients together.

If serving immediately, pour sauce over ribs and return to the oven for another 30 minutes. Baste frequently over next 30 minutes or so until ribs are pulling away from the bone. Note: the last 30 minutes and basting can be done over a medium/low BBQ grill as well.

If you are making these ahead remove ribs from the oven at this point and our the marinade over them. Let them cool down and store in fridge overnight or freeze. When ready to serve let them come to room temperature. Finish off the last 30 minutes in the oven or on the BBQ basting with the sauce.

Transfer finished ribs to a platter and serve.
Nutrition
Calories:
382
kcal
|
Carbohydrates:
16.7
g
|
Protein:
18.5
g
|
Fat:
20
g
|
Saturated Fat:
7.5
g
|
Cholesterol:
73.3
mg
|
Sodium:
709
mg
|
Potassium:
327.3
mg
|
Fiber:
0.8
g
|
Sugar:
11.2
g