You gotta love Copy Cat Recipes because you know they are going to be great! Now you can make Bar-B-Barn Copy Cat Ribs at home! The Bar B Barn has been a Montreal tradition for years.  If you have ever had their ribs you won't forget them!  And…did you know you can make fall off the bone ribs in 1 hour?  Well – you can.
In the winter time I don't mind doing the oven method over 2-3 hours but in the summer I don't want to heat up the house.  And, to be honest, I find it very tricky to get ribs cooked on the BBQ without risking burning the sauce.
So I have included the quick pressure cooker method (finished on the BBQ) and the oven method
So- again- the 'Queen of Make Ahead' has found a way around it!
I cook my ribs in the pressure cooker, steep them in sauce and finish them on the BBQ.  I get all the flavour with very little fuss and I can enjoy my guests since I only need to BBQ and baste long enough to let them caramelize and heat through. (Oven method also described below).
Pressure cookers sort of went out of style when the microwave came along but there are a lot of things only a pressure cooker can do.  Pressure cooking retains 90-95% of nutrients according to some studies, more than boiling, roasting or steaming.
Modern pressure cookers are far safer to use than the older versions.  They still need to be treated with respect but the digital ones are time and temperature controlled so there is no more diving on the burners and the valve to try to control the pressure.  The time savings are rather inspiring – fall -off- the- bone ribs in 35 minutes, rice in 8 minutes, pot roast in 45 minutes, chicken pieces in 10 minutes, whole chicken in 15-20 minutes.
In fact, if I could only have 1 appliance it would be my  pressure cooker because it can be a pressure cooker, a slow cooker, an electric frying pan and I have used it for a canning bath.
A Word on Pressure Cookers
I researched the internet extensively before I decided to buy a Nesco pressure cooker.  Many digital brands do not reach the optimum level of pressure so cooking times need to be extended.  I have been using mine for several years now and have never had a problem.  If you want to see my results check out my post Pressure Cookers – Which One is Best?
Chef's Tip
I couldn't bring myself to add the 2 cups of brown sugar the original recipe I was given called!  I think I tried it once but the sugar makes them so susceptible to burning!  Anyway – I have been using 1 cup for years so now that is my standard!
I make the sauce while the ribs are cooking.  Then I cover the hot ribs with the freshly made warm sauce. You can finish off on the BBQ at this point but if you want to make them ahead you can refrigerate them once cooled in the fridge up to to 48 hours.
Or you can also freeze them at this point up to 3 months.  Defrost and finish on BBQ or in the oven using medium heat  just long enough to heat through and caramelize the sauce.  If they are defrosted but cold this could take 30-40 minutes on the BBQ and about 45 in the oven.  Check often to ensure they don't burn due to the sugar in the sauce.
Wine Pairing for Bar-B-Barn Copy Cat Ribs
My favourite wine to serve with these ribs is a Cote de Rhone and if you can find one where the notes identify a toasty (think caramel) quality it is absolutely divine with this sauce.
Any other medium-bodied, low tannin red would work. Try a Valpolicella, a California Merlot or fruity, smooth red.  Avoid wine where the tannins are evident since the tannins will clash with the sweet notes in the rib sauce.
For white die-hards (oops… are my personal preferences showing?)  Look for a more full-bodied white.  A Riesling or Chardonnay or even Sparkling where they use ripe apples or orchard apples as a descriptor would be great!  Off-dry would be totally acceptable, even welcome here as well.
Enjoy with this Fantastic Potato Salad and Slaw!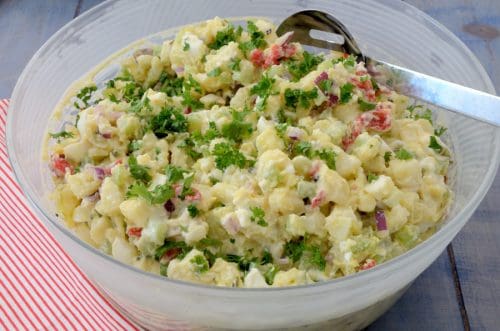 Creamy Cole Slaw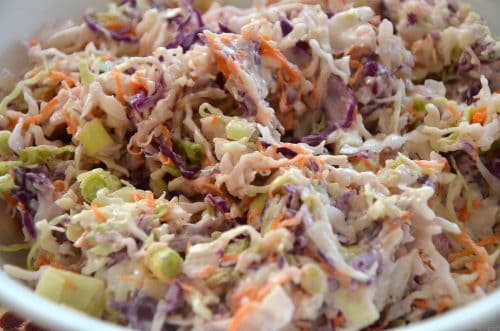 You might also like my  Tequila Ribs!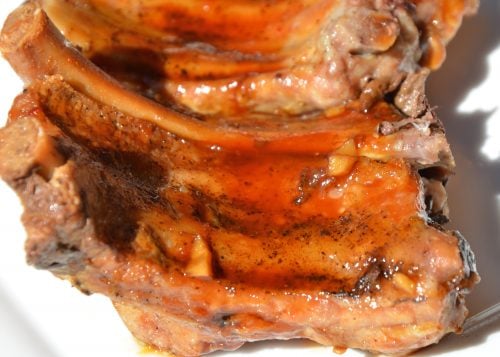 Ingredients
Ribs
2

racks

pork back ribs

about 3-4 lbs

salt and pepper
Sauce
1

cup

apple sauce

1/2

cup

ketchup

1

cup

brown sugar

6

Tbsps

lemon juice

1/2

tsp

salt

1/2

tsp

pepper

1/2

tsp

paprika

2

cloves

garlic

minced

1/2

tsp

cinnamon
Instructions
Rib Preparation
Remove the silver backing from the lean side of the rib racks. Be sure to use a non-serrated knife. Tip -if you can get a good start, usually on the narrow end of the rack, once you can get a finger grip on it you can often pull it off in one long piece.

Salt and pepper both sides of the racks and cut into 2-3 rib portions.
Sauce
Mix all sauce ingredients in a bowl and microwave 4-5 minutes, stirring occasionally.
Pressure Cooker Method
Pour 2 cups of ginger ale in pressure cooker.

Follow directions for your pressure cooker and fully cook the ribs. For mine it is 35 minutes on high.

Release pressure according to you pressure cooker instructions and remove ribs. Pour hot sauce over the hot ribs and allow them to soak in the sauce until ready to finish on the BBQ. (Can be a few hours to 2 days). You can also freeze the cooled ribs a this point for future.

When ready to serve heat BBQ and set to medium. Distribute ribs over the grill and allow to heat through, turning and moving so they don't burn. Serve once heated and sauce has caramelized,crisped a bit.
Oven Method
Preheat oven to 300 degrees F.

Place raw ribs in roasting pan and cover with half the sauce.

Roast 90 minutes. Then turn the ribs over and pour the rest of the sauce over them. Bake another 90 minutes basting occasionally.
Nutrition
Calories:
462.8
kcal
|
Carbohydrates:
47.5
g
|
Protein:
22.2
g
|
Fat:
20.6
g
|
Saturated Fat:
8.4
g
|
Trans Fat:
0.2
g
|
Cholesterol:
85.5
mg
|
Sodium:
530
mg
|
Potassium:
438.9
mg
|
Fiber:
1
g
|
Sugar:
44.2
g