Often Italian meats are served as scallopini but not Braciole. These beef rollups are Italian comfort food at its best!
What is Braciole you ask? The name Braciole comes from the old cooking technique of grilling meat over charcoal or 'alla brace' . Involtini is another name for thin slices of meat rolled up into 'little bundles' around cheese and bread crumbs. Braciole seems to have survived as the more common name.
This is by no means a new and innovative recipe – I am including my adventure cooking with it because it is new to me. And I am so glad I found it that I want to give you the chance to discover it too!
As I was researching Braciole recipes – in my head I was saying – Bra-chi-o-le with what I think of as an Italian swagger. Then a few days later in an older episode of the Sopranos one of the characters said ' I always loved her Brazola' really fast and slurred. I had a little chuckle when I realized he was talking about 'my' Bra-chi-o-le!
Thin slices of boneless top round beef, rolled up around prosciutto, lots of garlic, cheese and bread crumbs. All braised in tomato sauce until it is melt-in-your-mouth tender.
I am fortunate that in my German heritage city you can easily find the thin slices of top round already sliced. (It is called rouladen in the German version.)
You may have to ask your butcher to slice it for you. If you have really good knives you could buy a top round roast and slice it thinly yourself. You are aiming for 1/8″ to 1/4 slices. If they are too thick you can pound them with a meat mallet to flatten then further.
You can make this on your stove top, in your oven or in your slow cooker. I usually do the oven method but you can't beat a slow cooker set up for 'fix it and forget it'.
These go really well with these Foolproof Crispy Potatoes to soak up all of that delicious sauce.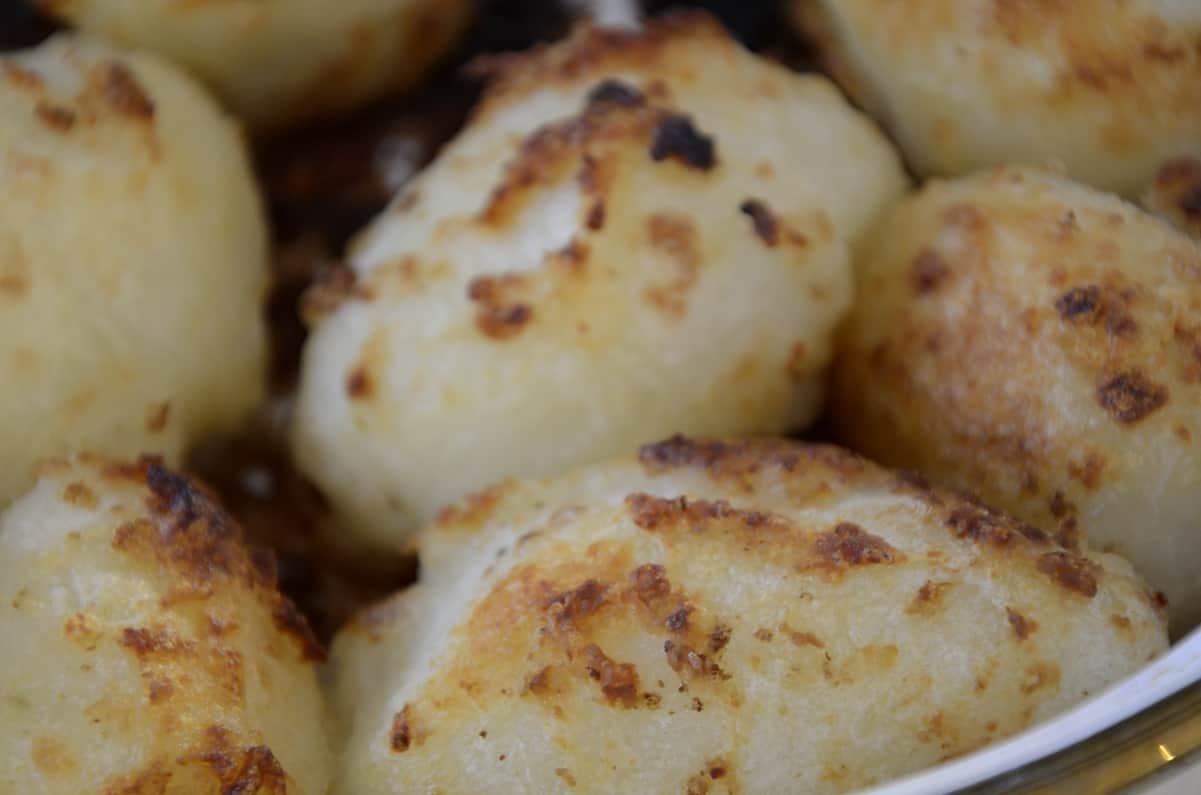 Wine Pairing for Braciole
Apparently the inclusion of the proscitto in the Braciole makes this a Neapolitan dish. So if you want stay true to the region you may want to serve a Taurasi or other Aglianico based wine.
Having said that any dry red will work here. The beef and the sauce are robust enough you can go for a hearty red. Chianti, Brunello, Rosso di Montalcino or any Sangiovese, Primitivo or Negroamaro. Cabernet Sauvignon or even a Bordeaux blend would work here as well.
Ideally – you will serve the same wine variety that you used in the recipe. If I am planning to serve an expensive wine at the table then I would look for a cheaper but good wine of the same varietal.
Ingredients
6

slices

top round

about 1/8th to 1/4 " thick (called rouladen at my German butcher shop)

6

slices

prosciutto

6

cloves

garlic

divided 3 minced + 3 sliced vertically

2

Tbsps

Italian style bread crumbs

1/4

cup

parsley

finely minced

1/2

cup

shredded, aged Italian cheese

like Parmesan, Roman, Asiago, Pecorin

2

Tbsps

olive oil

2

cups

dry red wine

2

cups

beef broth

1

28 oz

can crushed tomatoes

2

tsps

Italian seasoning

2

Tbsps

flour

or 1 Tbsp cornstarch for gluten free

salt and pepper for seasoning
Instructions
If you were able to purchase thin top round slices you can use them as is. If not you may have to take thicker slices and pound them until they are between 1/8th and 1/4 inch thick.

Season each slice of beef with salt and pepper and lay a piece of prosciutto over each slice of top round.

Combine the minced garlic, parsley, cheese and bread crumbs in a small bowl and mix well. Divide and spread mixture evenly over the prosciutto.

Gently roll the beef slices up length-wise. If one end of the slice is wider than the other start with the wider end. Fold any uneven sections of the outer edge inward as you roll. This will also help seal the ends of the roll. Secure the roll with 2 toothpicks. (If you use exactly 2 toothpicks per roll you will know later when you have pulled them all out.)

Preheat oven to 325°. (See Notes below for other cooking variations).

Heat the oil in a Dutch oven over medium high heat and brown the beef rolls on all sides. Transfer to a platter.

Add the wine and the sliced garlic to the Dutch oven and heat. Scrape up any browned bits from the bottom. Add the broth, tomatoes and Italian seasonings. Return the beef rolls to the pot. Bring pot back to a simmer.

Transfer Dutch oven to the oven and braise 3 hours uncovered. (See notes if not using the oven to cook.)

30 minutes before the dish is done cooking, take 1/4 cup of the hot tomato sauce and mix in the flour till it is dissolved. Return slurry to the pot and let it finish cooking the remaining 30 minutes.

Season sauce with 1 tsp salt and 1/2 tsp black pepper (or to taste) just before serving.

Garnish with additional grated cheese and parsley if desired.

Serve over rice, pasta or potatoes.
Notes
Note 1:  For Slow Cooker – you can transfer the beef and sauce to your slow cooker after it returns to a simmer.  Cook on low 7-8 hours or on high 3-4 hours.
For Stove Top Cooking – After beef and sauce return to a simmer, continue simmering about 1  1/2 hours, stirring occasionally.
Nutrition
Calories:
209
kcal
|
Carbohydrates:
8
g
|
Protein:
6
g
|
Fat:
11
g
|
Saturated Fat:
3
g
|
Polyunsaturated Fat:
1
g
|
Monounsaturated Fat:
6
g
|
Trans Fat:
1
g
|
Cholesterol:
15
mg
|
Sodium:
498
mg
|
Potassium:
115
mg
|
Fiber:
1
g
|
Sugar:
1
g
|
Vitamin A:
267
IU
|
Vitamin C:
4
mg
|
Calcium:
120
mg
|
Iron:
1
mg