Maybe it's a counter to the Irish potato famine but Irish food today is delicious and plentiful.  This selection of 15 Delicious Irish Mains, some with a few new twists,  is sure to inspire you.
The last time my husband and I were in Ireland we made the mistake of ordering in a restaurant the way we would in Canada. We would order an appetizer and a main each and then hope there was room to split a dessert.  In Dublin my appetizer was two pounds (!) of mussels with a delicious broth and lots of bread to sop it up.  The lamb nestled in rich gravy with mounds of potatoes and vegetables didn't stand a chance of being finished.  No way we could even think about dessert!  It took us most of the week to get the hang of ordering.  First we split an appetizer and each had a main. Still couldn't do dessert.  Then we split an appetizer and split a main.  I don't remember ever getting to dessert so I don't think that worked either.  I do recall by the end of the week were were ordering only an appetizer – maybe one each, maybe shared.  Irish portions are generous!
You will love the selection of classic Irish mains below. Hopefully you will have room for dessert so you will need to check out this round up of Boozy Irish Desserts  and Drinks!  Oh… and if you want bread on the side check out 10 Amazing Irish Breads.
Irish Stout Onion Soup by Running to the Kitchen
St. Patrick's Irish Cheddar Soup by Simple Nourished Living
Irish Scallop Bisque by Beyond Mere Sustenance
One Hour Guinness Irish Stew by The Wine Lover's Kitchen
Walnut Crusted Salmon with Guinness Reduction by Mom Foodie
Irish Potato Jackets by The Organic Kitchen
Dublin Lawyer   from The Wine Lover's Kitchen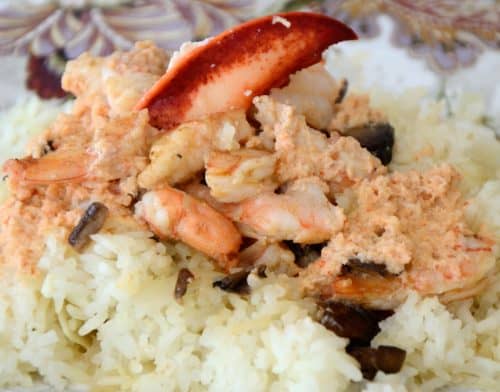 Slow Cooker Brisket in Guinness  by The Wine Lover's Kitchen
Pressure Cooker Corned Beef with Horseradish Sauce by Kalyn's Kitchen
Smoked Salmon Tartlets by Karen's Kitchen Stories
Guinness Lamb Stew by Upstate Ramblings
Boxty-Irish Potato Pancake by Krumpli
Colconnan-Irish Mashed Potatoes with Leeks and Cabbage by Lord Byron's Kitchen
Reuben Topped Irish Nachos by Two Healthy Kitchens
Updated 2 October 2020 to replace offensive recipe.