These Irish desserts featuring Guinness, Bailey's and Irish whiskey are sure to leave your Irish eyes smiling!
These all look so good you will probably want to make them all sooner or later.  Instead of just being Irish for St. Paddy's day you can be Irish all week, or all month!
You see the tablecloth in the  Apple Irish Cream Cake picture above?  Authentic Irish Linen from the Linen Center in Lisburn, Northern Ireland.  As it turns out my ancestors were French Huguenots that fled France and settled in what is now Northern Ireland in the late 1600s.  The French Huguenots were responsible for bringing refinement and innovation to the linen weaving trade in Ireland since they had advanced techniques.  When the British were trying to settle (or overtake?)  Ireland they had a campaign to populate Ireland. They welcomed the Huguenots who were being persecuted in France (another Catholic/Protestant conflict).
The civil records for Ireland and Northern Ireland are really well digitized (except for the big fire in the 1920s that destroyed a whack of them).  I think ancestry research may be one of Ireland's leading tourist draws!
So I was intrigued when I found ancestors who had some of the first licenses to grow flax. Some were weavers.  Usually the weaver's wife and children spun the flax and the father was the weaver and would sell his goods at market.  It paid better than many trades but it was incredibly hard work. Eventually some of them must have made good because you can see the progression to Linen draper and eventually Linen Manufacturer.
By virtue of that I just knew I 'deserved' to treat myself to some authentic Irish linen!  You can treat your self to some of these delicious desserts- you deserve it!
Apple Irish Cream Cake by The Wine Lover's Kitchen
Irish Cream Creme Brulée  by The Unlikely Baker
Bailey's Cheesecake with Bailey's Salted Caramel Sauce by Patisserie Makes Perfect
Chocolate Pear and Whiskey Tart by My Kitchen Love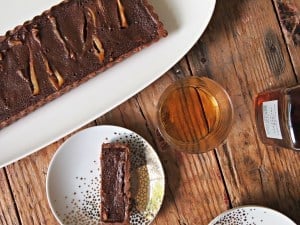 Irish Bread Pudding with Caramel Whiskey Sauce by Sidewalk Shoes
Chocolate Stout Cake by Saving Dessert
Crock Pot Irish Bread Pudding by Dad What's 4 Dinner?
Irish Coffee Chocolate Cakes by The Kitchen Prep
Vegan Sticky Toffee Pudding by Rabbit and Wolves
Guinness Caramels with Salted Peanuts by Use Your Noodle
Check out these links for more Irish Mains, Bread or Irish Drinks!