These Cucumber Tea Sandwiches pack a lot of flavour for so few ingredients! So elegant.. so easy… so tasty!

[ultimate-recipe-jump text="Take Me to the Recipe!"]
I served these along with my Rolled Tea Sandwiches for a Mother's Day Luncheon.  They make such a dainty and elegant impression! I was making a variety of sandwiches so this recipe is written using 2 oz of cream cheese to produce 12 bite size sandwiches.  Adjust the quantities for the amount that suits your needs.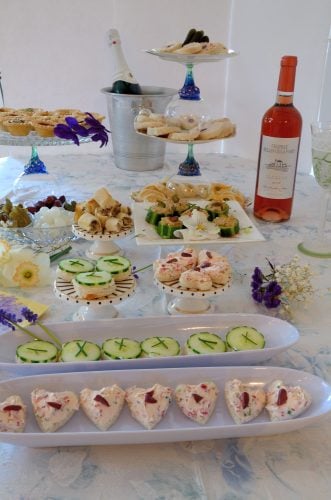 I used plain white sandwich bread and cut it with a cookie cutter.  I picked a wine glass that was approximately the same size as the widest part of my English cucumber and cut out rounds of bread. I got about 3 from 1 slice of bread.  It was really close though – with a slightly smaller cucumber I might have got 4 rounds from each slice.  I have seen these made with those little square pumpernickel breads as well.  They are tasty but don't look quite as romantic as the white bread version.  The pumpernickel might work well as part of a picnic.. a little more rustic scene!
I also used a small heart shaped cookie cutter and a Creamy Goat Cheese filling to make other open face sandwiches.  The possibilities here are endless.  Check out other fillings or spread ideas.  You can pick a cookie cutter that suits the occasion – a fall leaf for fall, a bell or holly shape for Christmas, a heart for Valentines or a shower, a baby motif for a baby shower. You get the idea!
Aside from the fillings I have suggested for other tea sandwiches you could also choose any of the spreadable cream cheese tubs in the dairy aisle.  They have interesting flavours like smoked salmon, strawberry, herbs and garlic, dill etc.  Then just pick a complementary garnish like a half a real strawberry on the strawberry base, a caper or dill sprig on the smoked salmon. Use your imagination!
These cucumber sandwiches remind me of very elegant teas.  The fresh herb accent and pinch of sea salt really shine against the cream cheese and cucumber… subtlety at its finest!
Ingredients
2

oz

plain cream cheese

room temperature

1/4

tsp

garlic powder

1/4

tsp

onion powder

1/2

tsp

dill weed

minced

chives for garnish

(or use more dill sprigs)

4

slices

plain white sandwich bread

1

English cucumber

sea salt for garnish
Instructions
Mix cream cheese, garlic, onion and minced dill. Stir til well blended.

Using a small cookie cutter or small glass that is the same or slightly larger than your cucumber, cut out rounds from the slice of bread.

Spread the bread rounds with cream cheese mixuture.

Trim narrow ends off the cucumber and score vertically using a zester. Cut 12 thin slices of cucumber.

Top the bread and cream cheese with a cucumber slice. Garnish with a pinch of sea salt and some fresh herb, chive or dill sprig.
Nutrition
Calories:
28
kcal
|
Carbohydrates:
3
g
|
Protein:
1
g
|
Fat:
2
g
|
Saturated Fat:
1
g
|
Polyunsaturated Fat:
0.1
g
|
Monounsaturated Fat:
0.4
g
|
Cholesterol:
4
mg
|
Sodium:
60
mg
|
Potassium:
44
mg
|
Fiber:
0.3
g
|
Sugar:
1
g