Thinaddictives are well named because they really are hard to stop eating!
This copy cat recipe comes about because I can't always find those nice little packets at Costco and I am disappointed when I am on a mission and can't find them.
These are not exactly the same but the same essence!
So...using a combination of biscotti and cracker recipes these home made 'thinaddictives' stand in.
First you make a very thick dough, the only moisture being eggs. Then you add your fruits and flavouring and shape the dough. I used 4 mini loaf pans because they give me a nice size for slicing in to cookies or crackers.
A standard loaf pan would work if you want to slice really wide thin cookies, which are probably more like the store bought version. You can also just shape the dough in to logs on parchment paper. (Wet your hands to shape or press this doug.) It will certainly hold its shape.
You bake the logs/loaves and let them cool. Slice very thinly and bake a second time to get the crispness of a cookie type cracker.
Finished crackers will keep about 2 weeks in an airtight container. So if you want some for future weeks freeze as many of the logs as you like. Defrost fully before slicing and proceeding with the second bake.
These cookies are part cookie part cracker. They go great with a cup of coffee, tea or cocoa. The also work along side a glass of wine or port. Cheese would only work if it is sweetish or fruity like a mango or pineapple stilton or a creamy Brie type cheese.
Chef's Tips for Copy Cat Thinaddictives
Almonds are the signature nut and flavour but you can substitute or mix in other nuts like the pistachios I added. If you use whole almonds you will get nice cross sections in your slices. I happened to have a large amount of almond slices so I used them. You can certainly taste them but they aren't visually very noticeable in the cookie itself.
Almond extract can be very strong and this recipe is not noticeably sweet so the recommended amount is less than you would use in a standard cookie recipe.
Wet your hands to shape this dough -either in to logs to be baked on parchment or to press it uniformly in to mini loaf pans.
The batter is so dense here that you don't get any benefit from partially freezing the loaf before slicing. It is better to have a slightly thicker slice that is uniform in thickness than a thin one that is uneven. A thinner part of a slice will be far darker and drier than the thicker part. Uniformity is better.
Number of slices and bake time will vary according to the thickness of your slices.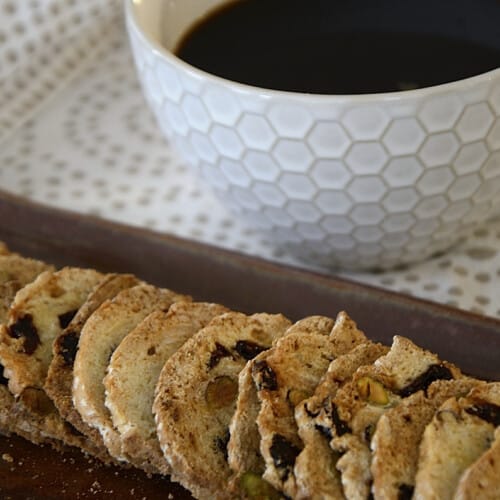 Ingredients
1

cup

dried cranberries

2 ¾

cups

flour

⅛

teaspoon

salt

5

eggs

separated

1

cup

sugar

½

teaspoon

almond extract

almond extract can be very strong. If you are a fan you can use up to 1 tsp.

1 ½

cups

whole almonds

See Note 1:

½

teaspoon

cinnamon
Instructions
Soak cranberries in warm water about 10 minutes to plump the up. Drain well when done.

Preheat oven to 350°. Line a baking sheet with parchment paper or spary 4 mini loaf pans with cooking spray.

Sift the flour in to a medium bowl and mix in the salt.

Beat the egg yolks for 2 minutes and then gradually beat the sugar in, scraping down the sides periodically, Mixture should be light coloured and somewhat airy.

Add the vanila extract and beat for a minute after adding in the sugar.

Add the nuts and cranberries and stir well to well.

Change to dough hooks or paddle on your mixer and beat the flour mixture in to the egg mixture. Mixture will be quite dry and stiff.

Clean beaters thoroughly and beat egg whites in a clean bowl till soft peaks form.

With a spatula gradually fold the egg whites in to the flour mixture. Mixture will be wetter but still very stiff and thick.

If using mini loaf pans divide batter evenly between the loaf pans and pat down with wet hands in to the corners and to flatten our the top. If using parchment on a baking sheet divide the dough in to four and shape in to logs with wet hands.

Bake for 25 minutes until a toothpick in the middle comes out clean. (Check after 20 minutes.) Turn oven off until later when you are ready to do the second bake on the cookies.

Allow loaves to cool completely on a rack. Turn loaves out of the loaf pans a few minutes after removing from the oven. You will have to run a knife along the edge of the pans to loosen the loaves.

When completely cool preheat oven to 325°. This will take an hour or two at least and I left mine overnight because it was convenient. Use a sharp serrated knife to slice the cookies as thinly as possible. Aim for 1/16 of an inch but ⅛ is ok. Err of the side of making uniformly thick slices if 1/16th is too difficult to slice. That way the cookies will bake uniformly. See Note 2.

Place thin cookies on a parchment lined baking sheet. They can be close together because they will not change shape. Bake about 15-20 minutes, turning the cookies half way. Baking time will depend on the thickness of your slices so check them after 12 minutes or so. If they are turning brown then flip them and bake on the other side until it browns slightly too.

Cookies will get firmer as they cool. Store in an airtight cookie tin up to 2 weeks.

You can freeze the loaves and thaw them when you want to do the second bake and serve them. Some cracker recipes suggest slicing while the loaves are partially frozen but this dough and loaf is so dense it is easier to slice them after they thaw fully. When ready bake according to the instructions above for the second bake.
Notes
Note 1:  If you use whole nuts you will get nice slices of almond showing up in your biscuit. I used almond slices so the taste is there but they are visually different.  I also substituted ½ cup of pistachios for ½ cup almonds just to suit my taste.
Note 2:  I got about 116 cookie thins out of my loaves.  
Nutrition
Calories:
44
kcal
|
Carbohydrates:
5
g
|
Protein:
2
g
|
Fat:
2
g
|
Saturated Fat:
1
g
|
Polyunsaturated Fat:
1
g
|
Monounsaturated Fat:
1
g
|
Trans Fat:
1
g
|
Cholesterol:
39
mg
|
Sodium:
17
mg
|
Potassium:
32
mg
|
Fiber:
1
g
|
Sugar:
2
g
|
Vitamin A:
57
IU
|
Vitamin C:
1
mg
|
Calcium:
11
mg
|
Iron:
1
mg