This Potato Mash with Celeriac, Parsnip and Frizzled Leeks was part of a wine tasting menu the our wine group served for our Christmas gathering.
Wine Pairing for Potato Mash with Celeriac, Parsnip and Frizzled Leeks
See the wine pairing and full menu here.
I didn't take pictures of it in December so I just remade it for a cottage dinner party.  The original LCBO recipe suggests it for a winter holiday menu and it is wonderful but there is no reason this has to be a winter dish.  We eat potatoes in summer right?  And- since there are herbs and leeks involved it is also nice when they are in season.
It went particularly well with these Classic French Short Ribs.
The other good thing is you can make this ahead and reheat on top of the stove. You reserve the cooking liquid and use it to smooth out the mash initially if necessary and during the reheat if making ahead. The reheat feature is great for holiday parties when there are lots of items on the menu or for cottage dinners if you want to make it in the early cool of the day or the day before so you can enjoy yourself and your guests!
I thought I would write this up while my enthusiasm for the dish is top of mind because… guess what… the serving in the picture… gone… yum… I was in heaven!  A couple of thoughts, I added a 1/4 cup of melted butter to the mash and I liked it better.  I was a little hesitant about adding the mint but I had fresh mint in my herb garden and thought I should respect the original recipe.  It added a very subtle, interesting note.  I was worried it would take over the dish but it didn't.  And… most important of all… DON'T skip the frizzled leek topping… That is what takes the dish from ordinary to sublime!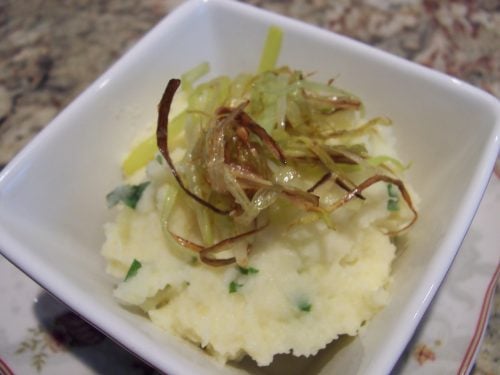 Ingredients
Basic Mash
4

cups

chicken stock

3

cloves

garlic

peeled and halved

6

large

Yukon Gold potatoes

peeled and chopped into 2 " dice

2

small

celery root

peeled and chopped into 1" dice

2

medium

parsnips

peeled and chopped into 1" dice
Mash additions
1/4

cup

olive oil

1/4

cup

melted butter

(Optional)

1/4

cup

cream

(I used 10% instead of whipping cream because I added the butter above)

1/4

cup

fresh parsely

finely chopped

1/4

cup

fresh mint

finely chopped

1

Tbsp

grated horseradish

(Optional, I did not use)

Salt and pepper to taste
Garnish
1

leek

white part only

1/4

cup

olive oil

for frying

sea salt

to finish
Instructions
Combine basic mash ingredients in a sauce pan and bring to a boil. Simmer about 25 minutes till vegetables are tender.

While the basic mash vegetables are cooking, cut the leek into a fine length-wise julienne.

Bring the 1/4 cup of olive oil to high temperature in a cast iron skillet. Watch the oil carefully. I added the leeks once it started to spit to calm it down. Fry leeks over high heat until they start to turn golden brown. This took 4-5 minutes for me. Be careful not to burn them.

When the leeks start to turn golden remove them from the pan and drain immediately on a paper towel. Finish the leeks with good quality coarse sea salt such as Maldon.

When the basic mash vegetables are tender drain, reserving the cooking liquid.

Mash the basic mash ingredients, then add the Mash addition items stirring vigorously. If your mash is too dry you can add some of the reserved liquid til you get the consistency you want.

Transfer mash to serving or individual dishes depending on if you are plating the meal or not. Top with the frizzled leeks.
Nutrition
Calories:
396
kcal
|
Carbohydrates:
39
g
|
Protein:
7
g
|
Fat:
25
g
|
Saturated Fat:
6
g
|
Polyunsaturated Fat:
2
g
|
Monounsaturated Fat:
16
g
|
Cholesterol:
14
mg
|
Sodium:
736
mg
|
Potassium:
813
mg
|
Fiber:
5
g
|
Sugar:
5
g