Think of this Basic Slow Cooker Cheesecake as a blank canvas!
The moist slow cooking method yields a silky, dense cheesecake that is an ideal size. And the recipe makes a great basic cheesecake that you can choose to flavour or decorate as you like. I don't think I will ever go back to the oven baked method again.
The thing to watch for here is the capacity of your slow cooker. My largest is an 8 quart slow cooker so there was no way my 10″ springform pan was fitting in there.
I ended up ordering a set of 3 springform pans that gives a 10″ an 8″ and a 4″. You can use them to make layered cakes as well.
Instant pot markets a springform pan that is 7.5″ for use in an Instant pot. As you can imagine – that one is readily available.
This recipe makes about a 3″ high 8″ round cheesecake – so a nice substantial piece. The 10″ recipes end up with a cheesecake layer of only 1-2 " so this compact cheesecake offers a substantial wedge that would serve 6 generous portions or 8 lady-like portions!
There is no risk of a cracked top that oven baking and cooling can result in. And there is no fussing around with a water bath. This is perfect cheesecake with very little effort.
Timing is probably your biggest consideration here. Slow Cooker time is 2 hours to cook and 1 hour to cool and then at least 4 hours to chill. Hands on time is not significant but you have to be around the kitchen to manage the 3 hours of slow cooker time.
It also holds well in the fridge. I made the cheesecake two days before I put the toppings on and served it with no issues whatsoever!
Graham cracker crumb base; 2 blocks cream cheese; a bit of sour cream or heavy cream to lighten the cheese and you have a perfect vanilla blank canvas cheesecake to flavour as you like.
You could serve it with fresh fruit, like strawberries or raspberries, top it with this Bread Machine Blueberry jam; any freezer jam that would pour nicely over a piece or the whole cake. You could also swirl any kind of jam, fruit purée, chocolate or caramel syrup that you would like if you want to flavour the body of the cheesecake.
I got inspired and made a Balsamic Caramel Cheesecake garnished with fresh figs and topped off with candied walnuts. To-Die-For!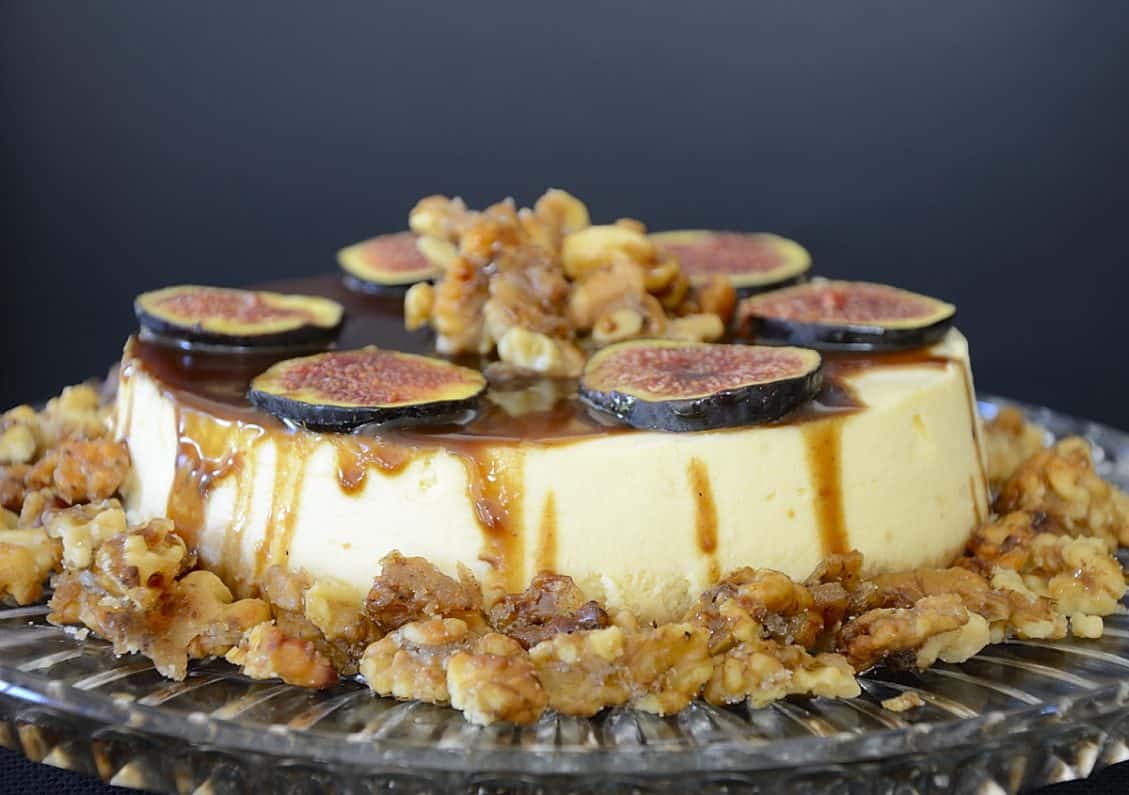 Ingredients
Crust
1

cup

graham wafer crumbs

1/4

cup

butter

melted

1

Tbsp

sugar

1/4

tsp

sea salt
Cheesecake
16

oz

cream cheese

1/2

cup

sugar

2

large

eggs

1/3

cup

cream

or 1/4 cup whipping cream

1

Tbsp

all purpose flour

1

tsp

pure vanilla

1/4

tsp

sea salt
Instructions
Spray the sides and bottom of springform pan with cooking spray. Cut a parchment circle to fit the bottom and spray it as well. Wrap the bottom of the pan and up the sides a bit with 2 layers of tin foil.

Mix crust ingredients and press evenly on to the bottom of the springform pan.

Pour 1" of water in the bottom of your slow cooker. Make 3 balls of tin foil that you will use to support the springform pan during cooking.

Beat the cream cheese and sugar in a medium bowl until mixture is fluffy. Add the remaining cheesecake ingredients and continue beating till well combined.

Pour the filling over the crust. Position the foil balls in the slow cooker and position the cheesecake pan on the balls, ensuring the pan is sitting evenly.

Cover the top of the slow cooker bowl with 3 layers of paper towel and place the lid on top.

Cook 2 hours on high. Turn slow cooker off and allow cheesecake to sit in the slow cooker 1 hour more.

Remove cheesecake from the slow cooker and remove the foil from the bottom of the pan. Refrigerate at least 4 hours or overnight.

The cheesecake will have shrunk away from the sides of the springform pan but if you need to, run a knife along the outer edge of the cheesecake to loosen it. Gently insert an offset spatula or broad knife blade under the cheesecake to loosen it from the bottom. Gently transfer the cheese cake to a serving plate pulling the parchment paper gently out from underneath the cheesecake. Top with fruit or flavouring of your choice.
Nutrition
Calories:
534
kcal
|
Carbohydrates:
34
g
|
Protein:
8
g
|
Fat:
41
g
|
Saturated Fat:
23
g
|
Polyunsaturated Fat:
2
g
|
Monounsaturated Fat:
11
g
|
Trans Fat:
1
g
|
Cholesterol:
184
mg
|
Sodium:
625
mg
|
Potassium:
167
mg
|
Fiber:
1
g
|
Sugar:
24
g
|
Vitamin A:
1536
IU
|
Vitamin C:
1
mg
|
Calcium:
106
mg
|
Iron:
1
mg