Is there a dessert that says summer more than Watermelon Pudding?
I have been devouring watermelon this summer after becoming obsessed with this Watermelon Cake with Cream Cheese Frosting!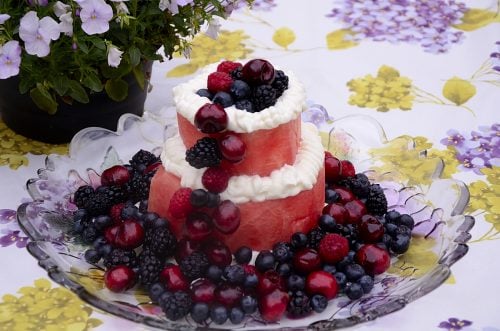 Actually, if your watermelon was big enough you may be able make the pudding with all the odd pieces that you cut away to get the cake shape. You will need about 4 cups of coarse watermelon chunks.
Ever cut into a watermelon and find it is a bit riper than you would like? My heart sinks when I see the porous flesh that spells 'soon to be mushy'. Well – this would be a perfect way to use that up because texture doesn't matter here – just flavour!
This pudding is a snap to make. Blend, heat, strain, pour. That will cover off the pudding part. Then comes the fun part with the whipped cream and pistachio and chocolate toppings.
Toppings are optional as are the amounts. Use as much or as little as you like. No pistachios? Try almonds or skip altogether. Same goes for the chocolate. If you are using chocolate use good quality dark chocolate for best effect.
For adults – I was tempted to add just a wee drop of Pernod to the whipped cream for that anise flavour. And it was delicious! If you decide to try that -beware- Pernod is VERY strong so 'a little dab 'll do ya'! There are also melon or fruit liqueurs out there that might be good too.
This is a great recipe for kids just starting to cook. The thickener is cornstarch and if you combine the juice and cornstarch in a jar and shake well you won't have any lumps. (A great precursor to ultimately making gravy!)
My husband was not a big fan of the consistency of the pudding thickened with cornstarch. It is more like an instant pudding than a jello so I have included instructions to make it more jello-like with the recipe.
This is a traditional Sicilian dessert called 'gelo di melone' that is made with jasmine flower essence. I have not seen that in my neck of the woods so I took direction from the Epicurious recipe and added some fennel seeds. You could use anise seeds as well but both are totally optional.
You can make the pudding up to 2 days ahead. If you add cream of tartar to the whipped cream you could decorate the day before or to be safe earlier in the day of serving. Chocolate shavings can go on ahead of time but I would only sprinkle the nuts just before serving to retain the crunch.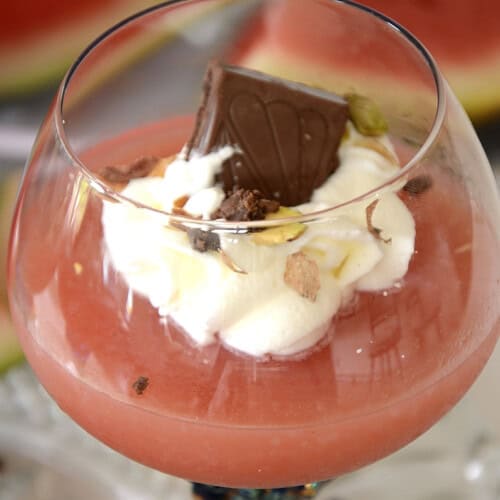 Ingredients
4

cups

watermelon pieces

2

Tbsp

cornstarch

see variation below for gelatin version

1/4

cup

sugar + 1 tsp

1/2

tsp

fennel seeds

optional

1

tsp

fresh lemon juice

1/3

cup

whipping cream

3

Tbsp

Pernod

optional

2

Tbsp

pistachios for garnish

crushed

2

Tbsp

grated chocolate for garnish

preferably good quality dark chocolate
Instructions
Watermelon Pudding
Blend the watermelon well. Strain puree through a fine sieve and discard any solids.

Add 2 Tbsps cornstarch to a small jar with a tight fitting lid. Remove 2 Tablespoons of watermelon juice and pour over the cornstarch. Shake very well to remove all lumps. Set aside.

Bring the remaining watermelon juice, 1/4 cup of sugar and fennel seeds to a boil in a saucepan over medium/high heat. Stir until sugar is dissolved. Shake the cornstarch jar again and whisk in to the saucepan. Reduce heat and simmer about 3 minutes, stirring a few times. Stir in lemon juice.

Remove from heat and pour mixture through a fine sieve into a serving bowl or 4 individual cups. Discard solids. Cover and chill about 4 hours to allow pudding to set.
Toppings
Beat cream with 1 tsp of sugar ( and Pernod if using) until medium peaks form. Crush pistachios and grate a bit of dark chocolate.

Spoon or pipe whipped cream on top of the pudding and sprinkle with pistachio crumbs and chocolate shavings.

Pudding will keep in the fridge about 2 days.
Notes
Variation:   For a more gelled consistency use gelatin to thicken the pudding.
Take 3 cups of strained watermelon puree and reserve remaining puree for another user.  
Sprinkle 28 grams unflavoured gelatin over 1/4 cup of the watermelon puree and set aside for 5 minutes. 
Meanwhile, add the lemon juice and icing sugar (omit fennel seeds) to the  remaining 2 3/4 cups  of puree.  Heat just until the sugar is  dissolved.  Remove from heat and stir in the gelatin mixture. 
Divide among 4 serving cups.  Refrigerate until set, about 3 hours at least.  Will keep covered in the fridge for a couple of days.  Proceed with toppings when ready to serve.
Nutrition
Calories:
244
kcal
|
Carbohydrates:
33
g
|
Protein:
3
g
|
Fat:
12
g
|
Saturated Fat:
6
g
|
Polyunsaturated Fat:
1
g
|
Monounsaturated Fat:
4
g
|
Trans Fat:
1
g
|
Cholesterol:
28
mg
|
Sodium:
11
mg
|
Potassium:
271
mg
|
Fiber:
2
g
|
Sugar:
25
g
|
Vitamin A:
1176
IU
|
Vitamin C:
13
mg
|
Calcium:
35
mg
|
Iron:
1
mg