No special equipment needed here folks. You can make this Lotus Ice Cream in one bowl and freeze it in the same bowl til ready to serve.
This is rich and creamy - no ice crystals going on here! You don't need a humongous serving because it is quite rich.
The original recipe had more almond extract and less vanilla but I found the almond a bit overpowering so I balance out the almond and vanilla and I like it better this way.
I don't see why you couldn't use this as a base ice cream of sorts and add whatever flavour components you like. Perhaps some chocolate or butterscotch syrup swirled in? Some diced or pureed fruit swirled in?
Once the almonds are toasted this literally takes 5 minutes to mix together and stick in your freezer.
You just have to remember to take it out of the freezer when you start serving your main meal or you won't be able to scoop it out of the bowl.
I actually freeze it in 2 smaller containers because it is rare that I would need the whole amount at once. It softens a bit faster and I can scoop it out with an ice cream scoop -just like those half gallons from the store!
Serve on its own, with pie, with fruit, with cake, in cones, in waffle dishes... anywhere you would serve ice cream.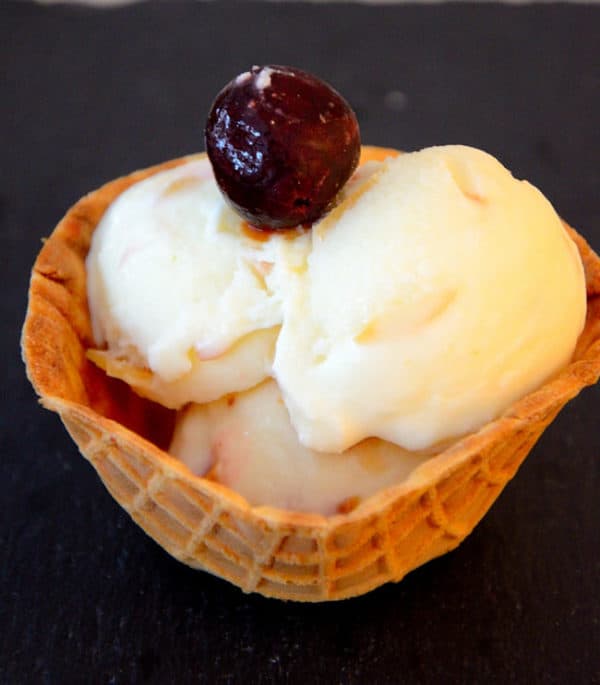 Ingredients
1

quart

whipping cream

½

cup

sliced or slivered almonds

2

lemons

rind and enough juice to make ½ cup

1

teaspoon

pure almond extract

1

teaspoon

vanilla extract
Instructions
Heat oven to 375 degrees. Spread almonds in a single layer in a baking dish. Toast about 10 minutes until golden brown, Watch carefully so they don't burn. When done, allow almonds to cool and crumble them roughly.

Add sugar to a bowl that you can use to freeze the final ice cream mixture. Whisk in the whipping cream and whisk until sugar dissolves.

Add the lemon rind, almonds, vanilla and almond extracts and stir to mix evenly.

Add the lemon juice and stir well. Mixture will start to thicken immediately.

Seal the bowl with plastic wrap or a lid and freeze at least 4 hours or up to a few days.

Remove bowl from freezer about 40 minutes before serving.

Note: If your container is airtight you can freeze for up to 3 months.
Nutrition
Calories:
362
kcal
|
Carbohydrates:
2
g
|
Protein:
2
g
|
Fat:
41
g
|
Saturated Fat:
22
g
|
Polyunsaturated Fat:
1
g
|
Monounsaturated Fat:
2
g
|
Cholesterol:
126
mg
|
Sodium:
34
mg
|
Potassium:
64
mg
|
Fiber:
1
g
|
Sugar:
1
g